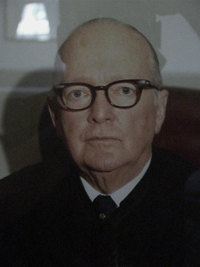 Judge Lawrence A. Whipple was born in New York City in 1910. He attended St. Peter's Preparatory School in Jersey City, New Jersey. He graduated from Columbia University in 1933 and worked on Wall Street prior to his entry into the John Marshall School of Law in 1936. The John Marshall School of Law was the precursor of the Seton Hall University of Law which was established in 1951.
Admitted to practice in 1940, Judge Whipple served as Hudson County Prosecutor from 1958 to 1963, when he was appointed a judge of the Superior Court of the State of New Jersey. He served in that capacity until 1967 when he was appointed by President Lyndon B. Johnson to the United States District Court for the District of New Jersey.
Judge Whipple was both a highly respected jurist and one of the most beloved judges in the history of New Jersey. He performed his duties as a federal judge with grace, dignity, good humor and a special sensitivity to the rights of all who appeared before him.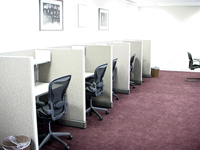 Judge Whipple was married to Virginia Golden Whipple, a registered nurse who graduated from Holy Name Hospital in Teaneck, New Jersey. Mrs. Whipple put her career aside to raise the couple's five children. Throughout their 48 year relationship, Judge Whipple was bolstered by her support, understanding and love. It was apparent to all who came in contact with Judge Whipple that Virginia's self-sacrifice and devotion to him and their family enabled both of them to make the world a better place in which to live.
An extraordinarily special individual, Judge Whipple has been lauded for his intellect, wit and fairness. His compassion, warmth, understanding and humility have been documented at length by honored associates and numerous friends in a New Jersey Federal Bar Journal dedicated to his memory, as well as at a special ceremony in his honor before the United States District Court for the District of New Jersey.
The most succinct testimonial encompassing the spirit of all the others opined that the prophet Micah had Judge Whipple in mind when he proposed: What doth the Lord require of thee, but to do justly, to love mercy and to walk humbly with God.
The attorney conference room is located on the 4th floor of the Post Office Building. Copier and fax machines, phones, and seating available for attorney use.
Please note, this conference room cannot be reserved for trials or hearings and is to be accessible for all attorneys' use during business hours.