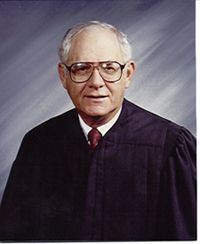 Stanley Seymour Brotman was a resident of Vineland, New Jersey, receiving his B.A. Degree at Yale University in 1947 and his LL.B. at Harvard Law School in 1950. While at Harvard Law School he was a member of the Cardoza Club Team that won the Ames Moot Court Competition.
During World War II, he served with the Counter-Intelligence Corps and in the Office of Strategic Services in Burma as a Far Eastern specialist fluent in Burmese. He was recalled to active duty as a Reserve Officer during the Korean Campaign.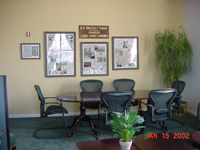 He was admitted to the New Jersey Bar in November 1950, and the District of Columbia Bar in 1951. He is a member and past president of both the Cumberland County Bar Association, serving as president in 1969-1970, and the New Jersey State Bar Association, serving as president 1974-1975. He is a member of the American Judicature Society, serving as director from 1995-1999, as well as a fellow of the American Bar Foundation and past president of the Harvard Law Association of New Jersey, serving in 1974-1975. He also served as a member of the New Jersey Board of Bar Examiners from 1970-1974. In honor of his many contributions to improve the system of justice, Judge Brotman was awarded the New Jersey State Bar Foundation Medal of Honor Award in 1990. In 1991 he was the recipient of the Person of the Year Award from the Virgin Islands Bar Association, and also received the Greater Vineland Chamber of Commerce Pride of Vineland Award. In 1994, Judge Brotman received the American Judicature Society Harvard Harley Award in recognition of this services in promoting the Effective Administration of Justice. In 1995, Judge Brotman was a recipient of the William J. Brennan, Jr., Award presented by the Association of the Federal Bar of New Jersey, and he also received the Special Recognition Award presented by the Trail Attorneys of New Jersey in that year.
Judge Brotman entered private law practice as a sole practitioner in Vineland, New Jersey, 1952-1957, and subsequently became a partner of Shapiro, Brotman, Eisenstat Capizola, Vineland, 1957-1975. He was sworn in as a Judge of the United States District Court for the District of New Jersey in April, 1975 and sits in Camden, New Jersey. In addition to his duties in the District of New Jersey, Judge Brotman, for the past twenty years, has been and continues to be temporarily assigned, from time to time, to sit in the District Court of the Virgin Islands and, from December 22,1989 to August 14, 1992, was designated by the Third Circuit as the Acting Chief Judge of that Court.
The attorney conference room is located on the 3rd floor of the Post Office Building. Copier and fax machines, phones, and seating available for attorney use.
Please note, this conference room cannot be reserved for trials or hearings and is to be accessible for all attorneys' use during business hours.